1962 M114 APC
This 1962 M114 APC is the fine work of Lance Miller. This is an outstanding example of what results from endeavoring to produce the very best in restoration work. The entire APC was sandblasted and primed with TM9 Red Oxide Epoxy Primer. A top coat of TM9 OD24087 urethane paint produces a vehicle with a factory fresh finish. I'm sure we all look forward to seeing this vehicle displayed at some upcoming MV Shows.
1944 MB
Jeeps of the Second World War are by far the most common military vehicles. What's not as common are restorations that often exceed what the vehicle looked like as it came off of the assembly line. This Willy's MB owned and restored by Dave Crozier from Ohio sure fits that category. Looks like there is a real concentration of gifted MV restorers in the Ohio area. This Jeep is the same shade of olive drab as it left the factory in 1944. Great job Dave, and a real tribute to Willy's.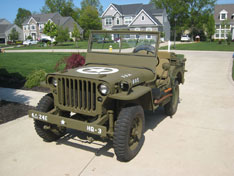 WC-26 Dodge Carryall
The following pictures are of a Dodge WC-26 Carryall restored by Ron Icely of Redding California. Many MV enthusiasts were able to look at this outstanding military vehicle at the Recent Tower Park Military Vehicle Show. This is, with little doubt, one of the nicest restored Dodges from the WWII era. The pictures speak for themselves. I know that many other restorers will take advantage of Ron's craftsmanship as we use this spectacular vehicle as a guideline in our own garages.
1968-1975 24087 Olive Drab
The following pictures are of an outstanding M151 Mutt restored and displayed at the 2010 Aberdeen MD Show. Mark painted this vehicle with TM9 Ordnance 24087 1968-1975 urethane paint. This semi gloss shade of olive drab was much darker than the 1956 24087 or the revised 1959 24087. This darker shade was adopted through the direct actions of the Proving Grounds desire to have a darker less brown shade of olive drab. In addition to many examples of this shade of paint being available on equipment and vehicles, it was developed directly from the period PPG Paint Chip Book specifically printed for US Government Military Contracts.
1943 Hobart GR-300-S US Army Welder
Here is a very rare 1943 Hobart GR-300-S US Army Welder on its original Trailer. This welder was restored by Mike Spradlin in Springfield Ohio. Spradlin Brothers Welding is one of the largest commercial welding shops in Ohio. This is an outstanding restoration of a very hard to find WWII trailer. It is fitting that Hobart, the original manufacturer of this trailer in 1943 invited Mike to bring his trailer to the factory for display. They even wrote a story about Spradlin Brothers and the trailer in there recent newsletter. The pictures speak for themselves. Mike used TM9 Shade #8 (1939-1949 OD319). We should all be on the lookout for a CCKW with the ST-6 Shopbody and Welding load for Mike to restore!
Dodge WC-18 Ambulance
I am really pleased to showcase an outstanding Dodge WC-18 owned by John Hamann of Bloomington, Illinois. These "before" and "after" photos reveal the remarkable condition of this 69 year old vehicle. John picked up 3 gallons of Lustreless Olive Drab #8 at the 2010 Topeka convention and headed back for Illinois. With no rust and only a few holes and dings; Kurt's Auto body of Bloomington, IL performed a little body work and did a remarkable painting job. A few weeks later John obtained stencils and took the truck back to Kurt's for the final application. Within 2 days it was ready to go. One spray can of TM9 Lustreless Blue Drab was more than adequate for the registration numbers and a spray can of burgundy from the local hardware store worked perfectly for the maroon caduceus. The body shop used flat white for the red cross backgrounds and the unit markings and John picked an appropriate red from their color chart for the crosses. Kurt's auto body is the premier body shop in Bloomington, taking time to tackle vintage and antique vehicles in addition to their regular business. Kurt's was very impressed with the paint and application, and are happy to do additional Military Vehicle painting with TM9 Products at their facility.
Red Ball Gilbert Show
This picture was taken at the Red Ball President 2009 Gilbert PA Show. All three of these vehicles are painted with Lustreless Olive Drab Shade #8. Bob Rubino is the owner of the 352 CCKW (enamel paint). Rick Wark owns the M29 Weasel (enamel paint), and the 353 CCKW Dump (urethane paint) is owned by Sven Johnson, Red Ball President and MVPA Board Member. Here, Bob, Rick and I ham it up in front of the camera. What you cannot see is Sven is driving his M-3 Halftrack right behind Warren as he takes our picture. For those that can afford the time, the Red Ball Gilbert Show is one of the best MV events nationally.
1940 Bantam Pilot
This is one of the most ambitious military vehicle projects ever undertaken. A perfect reproduction of the 1940 Bantam Pilot Jeep. A four year project that took creator Duncan Rolls of Texas more than 3,000 man hours of labor. After scouring the world for all remaining Bantam parts, Duncan was able to acquire almost every part known worldwide. Unfortunately there were very few parts to find! As a result Duncan fabricated, forged, cast and machined every part required for this masterpiece.



At the American Austin Bantam Society Annual Meeting in October of 2008 in Boulder, Nevada, The Pilot took Best of Show, (25 vehicles) , Long Distance Award, and the President's Award, given by all the past Presidents of the Society. Duncan's better half, Kim, is an avid MV enthusiast, and loves riding in the Bantam.
Next on the project list, Duncan will be restoring eight BRC 40's for a client, as well as his own corrugated floor BRC 40. Once completed, he will build a recreation of a BRC 60.
TM9 is proud to be the supplier of olive drab paint and primers for these masterpieces.
Congratulations Duncan!
1944 GPW – Midwest Military
This 1944 GPW is owned by John Bizal of Midwest Military. This factory class restoration has left no detail (read as expense) spared in the pursuit of perfection. TM9 Ordnance is proud to have supplied the Lustreless OD #8 paint as well as the Blue Drab spray paint. This outstanding vehicle will soon be the subject of a detailed restoration story on the Midwest Military website. This story and the restoration of John's Dodge Command Car give a good sense of what steps and details are required for such a project. Congratulations on a great GPW!
M3 Scout Car – Matt Ferdock Owner
After a year of restoration by Halftrack and Scout Car expert Bob Gillard, the vehicle is ready for delivery from Oregon to its new home in SE Pennsylvania. This Scout Car was painted with TM9 Enamel Lustreless Olive Drab Shade #8. A vehicle any MV collector would be proud to display and drive. Great work Bob and Matt!
Ford GPA being restored by ArmyCars USA
After sandblasting the hull and then priming with PPG Epoxy Primer, Kevin Kronlund turns everyone loose to start painting. Eric begins by helping Vince Melton mix the TM9 Ordnance Lustreless OD #6 Paint and Catalyst. The amount of surface and number of complex curves makes the painting of such a vehicle a challenge even for the most experienced of painters. Vince is literally inside the hull and painting at all angles so no area is left in primer. Coverage is fast and drying time is measured in less than an hour and not days. Once dry it's time for Kevin, Chuck and Buster to begin assembly with the frame and engine portion. This is the third GPA being finished in TM9 paint products. There is no time like now to begin using accurate shades of WWII Olive Drab as most advanced restorers are now using.
The following images show a Ford GPA that has just came out of a lake located at ArmyCars USA in Wisconsin. This GPA is owned by Chet Krause, and restored by L'Cars Restoration in Wisconsin. TM9 paint was used exclusively for this restoration. Lustreless Olive Drab Shade #6 and Lustreless Blue Drab were used.
1944 Dodge WC-62 being restored by Rick Wark
These two images show the first vehicle being painted with the new Lustreless Olive Drab #8 Air Dry Synthetic Enamel paint. This Dodge WC-62 is being restored by Rick Wark in NJ. He currently owns two of these vehicles. Rick is very familiar with vehicle restorations. He has restored for his personal collection, a Jeep, Weasel, WC-51, and WC-3. He also has another 3 vehicles waiting their turn.
M4A3 Sherman Tank
This M4A3 Sherman Tank, arrived on Sabine Field, Norwich University in April, 1957. "Sabine Sally" was removed for restoration in December 2010 after years of neglect and cadet Shenanigans. The premier armor restoration shop in the US, Milspec in NJ, was selected for this task. After sandblasting it was primed in TM9 Red Epoxy Primer and then re-painted in the exact shade of OD 319 (TM9 #8) as it left the factory in during early 1944. Norwich is the oldest private military academy in the United States. Bob Rubino and his team returned this factory new Sherman to Sabine Field on April 30, 2013.